Dance Classes in Downtown Carrollton
Dancing is the greatest form of personal expression! At the Plaza you can start learning to dance today. We offer different types of dancing – from Folk dancing, two-step, contra dance, square dancing, to ballroom dancing. Dancing is a way of having fun, meeting new people, and the best way to improve your physical condition without having to go to the gym.
Take a look of our calendar to find out what's coming up this month.
The Plaza is proud of its dance hall and dance floor.  The dance hall, converted from a theater in 2006, has balconies and a 30′ high ceiling. The floor is designed specifically for dancing.  It uses Robbins Bio-Cushion Floating Floor system to protect dancers' knees from injuries. Furthermore, the entire solid maple hardwood floor and its sub-floor sit on a pier-beam  structure, creating a unique resilient environment such that a dancer may feel the motion from his partner but not neighbors.
Private Lessons
Plaza Arts Center is open to all dance instructors for private lessons.  Please contact Plaza Arts Center for details.
Folk Dance & Class: Sundays
Free.  Each Sunday 2:00-5:00 PM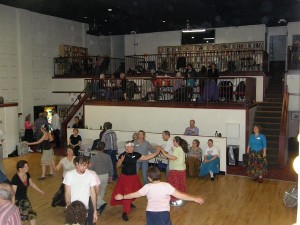 Come join us Sunday afternoons from 2 to 5 pm, taught by Clarence Teng. The class teaches traditional and old-time social dances from different countries. No experience needed. No partner needed. It is Free.
Ballroom Dance Lessons: Saturdays
The class starts at 1 pm and is taught by Emmy Agustin who will cover all major types of ballroom dances. The class is open to all adults 16 and older.  Visit 
www.dancelessonswithemmy.com
for details or email Emmy Q. at emeritaq@dancelessonswithemmy.com
Tap Dance: Free Classes on 1/21/2017 and 2/4/2017
By Rhythmic Souls. For details visit:     http://www.rhythmicsoulstapcompany.com or send email to
office@rhythmicsoulstapcompany.com